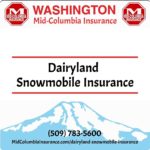 The time you have to hit the trails on your snowmobile is short. If something unfortunate happens, you want to get back to riding as soon as possible with your sled back in prime form. Dairyland Snowmobile Insurance can help you forget your cares so the only thing on your mind when riding is how many more miles you want to go in the snow.
If a snowmobile accident happens, whether colliding with an object or falling through the ice, you want to ensure you and your sled are protected. You can reduce the hassle after an accident, theft, or fire damage with Dairyland's snowmobile coverage.
Getting affordable snowmobile insurance isn't hard. Get the coverage you want at a price you can afford. Get a fast, free quote for cheap snowmobile insurance by calling Mid-Columbia Insurance at (509)783-5600.