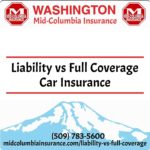 Source: Liability vs Full Coverage Car Insurance
Washington state only requires you to carry minimum liability limits. Full coverage is required by the bank if you lease or have an auto loan.
Liability car insurance provides coverage for damages and injuries you cause to someone else while full coverage adds protection for damage done to your vehicle.
Liability insurance will never pay for your own expenses after a car accident, so if you want your own medical expenses and repair costs to be covered, you will need additional coverage.
Full coverage adds comprehensive and collision coverage but does not necessarily include important coverages such as Uninsured Motorist and Personal Injury Protection (PIP) medical coverage or optional coverages like roadside assistance, rental car after an accident, and gap insurance.