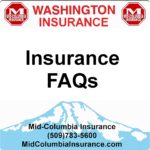 The General Says "Yes" When Others Say "No."
Many insurance providers are reluctant to offer coverage to drivers who need SR22 insurance. The General focuses on providing coverage for high-risk drivers. If you need to file an SR22, there is no need to worry.
By working with insurance companies like The General, Mid-Columbia Insurance assists high-risk drivers in finding trustworthy, affordable SR22 insurance. For drivers who need to file an SR22, The General can provide reasonably priced auto insurance.
Ride With The General®
You can put your SR22 in good hands with The General. The General submits the SR22 electronically to the DOL in state of Washington.
It's simple to add The General SR22 to your insurance policy so you may start driving again. When you ask for a quote, just mention that you need an SR22 filing.
The General can assist you in obtaining insurance so that you may resume driving legally and gives reductions even if you have committed major traffic infractions.
The General SR22 Insurance with Mid-Columbia Insurance
Contact a helpful, qualified insurance agent at Mid-Columbia Insurance right away at (509) 783-5600 to request a quote for The General SR22.